Yellow Lake and its companion singletrack are situated 27km from Penticton on highway 3a, but don't let the distance deter you from checking it out; the hike is one of my favorites! Yellow Lake sports a small boat launch and scheduled trout restocking program. It is a favorite hangout of local fishermen seeking a laid-back day of trolling or fly-fishing on a sheltered body of water. Click on the image above to enlarge it or click here to see an 'old school' NRC Topo of the same area.
Wind, which naturally aerates lakes without active streams such as this one, is nearly absent in this area of the Marron Valley. As such, a compressed air bubbler system is installed on each end of the lake. This mechanism saves fish from dying of oxygen deprivation when ice forms on the lake's surface during the winter.
Yellow Lake features service buildings with washrooms on each end; on the east are pit-toilets, on the west, flush - along with taps offering non-potable running water. Yellow Lake also offers avid hikers a steep trail on the height of land adjacent to it. Although the trail is situated on Crown Land, it is not alluded to on any of the information kiosks at either parking area.
The trailhead is located at the west end of the lake, on the south side of the highway. Pass through an unlocked metal fence, left of an information kiosk, and then drop down into a rocky, sometimes swampy area dotted with wild roses, thistle and bulrush. Here you need to cross a dozen or so meters of rough surface, heading toward the steeply rising mountainside which drops to the lake. Hug the lakeshore to your left as you make your way across this rough meadow.
You will soon see an opening in the forest and a trailhead. A few meters into this trail a metal gate appears, blocking your path. At this point, look to your right, there you will find a steeply climbing trail; the Yellow Lake trailhead. The singletrack is in excellent condition, flagged and rock cairned for much of the way - thanks to the Penticton Outdoor Club. Though this is a fairly short hiking trail, it makes up for its brevity with excellent trail consistency, great views and a healthy serving of vertical.
From the outset you are faced with a series of steep climbs, punctuated by short plateaus where you can catch your breath and admire the vistas below. Eventually the trail levels and junctions with an old two-track road. Turn right (left is private property) and continue up the two-track.
Here is where the route becomes a little more difficult to follow, as flagging and cairns become sporadic, the road narrows, and it frequently alternates between singletrack and two-track. To add to the confusion, there are cow-trails crossing the main route in every direction. I have explored two variations of trails to this unnamed summit; it appears that many others may exist.
The path shown in this chapter is based on sticking to what seemed to be the most obvious route up. I happened upon random cairns and shreds of flagging tape, so I know that it is, for the most part, the original path laid out by hikers over the years. I added cairns to the route on both of my visits and am aware that the Outdoors Club has recently conducted maintenance hikes into the area as well. I am confident that you will have little problem navigating the trail. If you wish to err on the side of caution, carry a GPS device and the tracks available at sweetsingletrack.ca
You will see two GPS tracks on the accompanying map; the usual color-coded track, in which slope is represented by color (darker is steeper) as well as a faded white line at the summit. The colorful track is mine; the other represents GPS tracks recorded by John Gullick and Mike Clyde.
While our routes differ slightly, they both make for the same general area; the summit. John and Mike's track runs a short distance further in order to explore an adjacent summit to the south. I suggest that you explore both, the views are awesome!
Overall, this area offers an amazing day of fishing and hiking, only minutes from town. Note that the map included with this chapter is presented, topographically-speaking "upside down'. I did this for best viewing effect, though I am well aware that it is somewhat of a cartographer-sacrilege. It does however present the lay of the land and trail access in an easier to grasp format. Like every other trail in this publication, the GPS and Google Earth files for this hike are listed online for your viewing pleasure. See sweetsingletrack.ca
Getting there; From the Peach, downtown Penticton, drive south on Winnipeg to Fairview, down Fairview to the Channel Parkway, stay on it to the junction of 97 and 3a. Hang a right on 3a and enjoy the drive to Yellow Lake - park at the west end.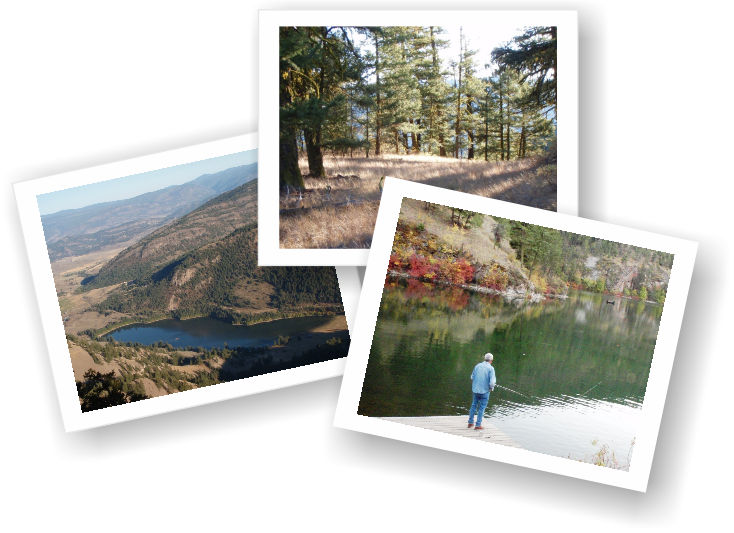 Low: 747m. | High: 1369m. | Length: 9Km return | Water: Not Potable | Cell Access: Spotty