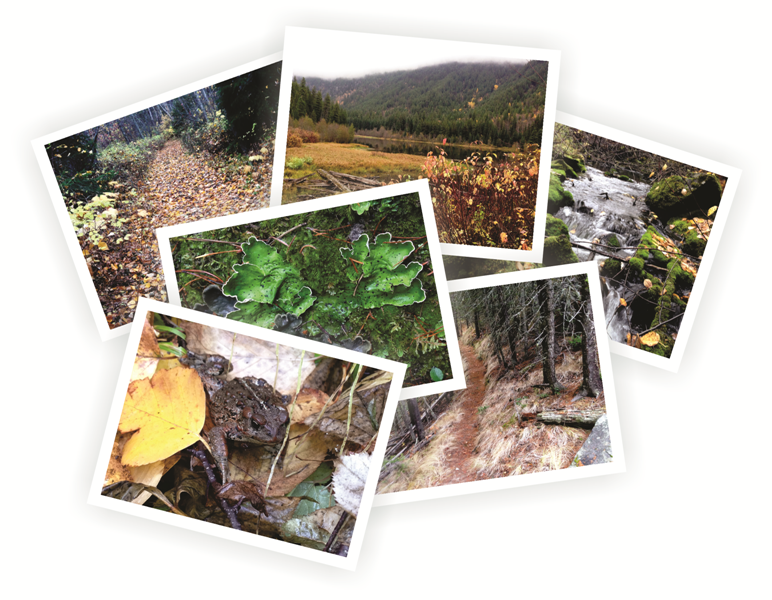 Lacoma Lake, located within Trepanier Provincial Park ("Trepanier Protected Area"), is accessible via a combination of rural service roads, deactivated resource two-tracks routes and an amazing singletrack trail. Click on the image above to significantly enlarge it.
To reach the Lacoma Lake trailhead take the right-hand Trepanier Rd. turnoff, which splits off Hwy 97c (aka; "The Coquihalla Connector ") 5.7km west of the overpass/intersection of Hwy.97 and Hwy.97c. Approximately 2.7km along Trepanier Rd., the pavement ends, turning to quality gravel surface. 1.8km further, under a large power-line, ignore the left hand junction which follows beneath the power lines; continuing straight ahead.
Ignore all of the subtle junctioning two-track roads that peel off every which way, staying the course for 6.7km, where you'll find a collapsed BC Parks information kiosk, and a few hundred meters beyond it to the left, a small parking area. Note that numerous sections of the service road beyond the aforementioned overhead power lines is strictly high-clearance / 4x4-vehicle only! I made barely made it in with a Subaru Forester, in the fall, with relatively dry roads.
I strongly recommend that you don't attempt this outing without a GPS device [and] chainsaw or large, quality hand-saw in your vehicle (in case deadfall blocks your path in or out). The road into the parking area is convoluted due to lack of signage (as of Oct. 2014).
From the collapsed wooden kiosk, head up beyond it to the right (seen as parking on the left). The rocky, slightly steep two-track mellows into a mild climb, meandering until it devolves into a singletrack trail marked with a wooden sign approximately 3.8km along. 120m shy of this point exists a quality outhouse.
The two-track is pleasant, but the fun begins here; the next 4.5km of singletrack is a thing of beauty, interrupted only by two large deadfall that will require a chainsaw. We removed sixteen deadfall from across the trail during our adventure, friends exploring this route the following day removed eight more.
We stopped 700m shy of the lake, as the trail takes on somewhat of a more hiker-only surface beyond that point, stashing our bikes and hiking into Lacoma Lake. You may wish to follow suit.
In its low-water, late autumn state, Lacoma Lake is pleasant and colorful (no bugs), but nothing particularly special. A beat-up outhouse, a decent wooden tent platform and campsite with a beautiful little creek running adjacent to it mark the end of the useable trail; an overgrown footpath curls around the southeast side of the lake, but it's in serious need of maintenance. There is little in the way of waterfront to explore, as marsh surrounds the lake, rendering it unapproachable. A mid-summer adventure would present a proper waterfront and rushing creek trailside.
If you choose to explore this route, I urge you to carry a large folding hand-saw at minimum, so that you can remove at least one deadfall across the trail. If everyone does this, the route will be clear year-round - and you'll be thankful on the way back down. BC Parks is aware of the situation and plans to replace the kiosk and re-implement trail signage, but their understaffed department rarely sends employees in for trail-maintenance.
There exists a geo-cache just shy of the lake, "under the roots of an upturned tree", so if G-C'ing is your thing, be sure to locate it with your wile and wit.
So - few amazing vistas, no actual beachfront lake; why visit? Because the return trip presents one of flowiest singletracks / two-tracks in the South Okanagan; and thus the draw of this unusual route. That, and it's something completely different than anything in the area :-)
Low:736m | High:964m | Length:17k Rtn. | Water: N/potable | Cell: Spotty